With the Nintendo Switch's ability to be played as either a standard home console or on the go, it is the perfect console for the "one more go" type of games. You know the ones I mean; the ones where you die, over and over again, but the stupidly fun gameplay just hooks you for one more turn, again, and again, and again. There is a decent number of these games to choose from available on the Switch, and a new one has made its way to the Nintendo e-Shop in by the way of French developer Manufacture 43's Pawarumi.
Pawarumi, in its simplest form, is an arcade top-down shooter where you control a powerful space ship in a sort of Aztec-like futuristic world. You'll play as Axo, a fighter who is trying to stop an all-powerful government known as The Council. It is not an amazing or original story, but what is unique in Pawarumi is that each of the three difficulty levels provide different endings and extended gameplay. Easy will give you three levels to try and defeat, and it will increase by one level each time you up the difficulty. It is a fantastic way to draw players back to play again after beating the game on the lowest difficulty, and trust me, you will need to start with the lowest difficulty setting because Pawarumi is hard. Extremely hard.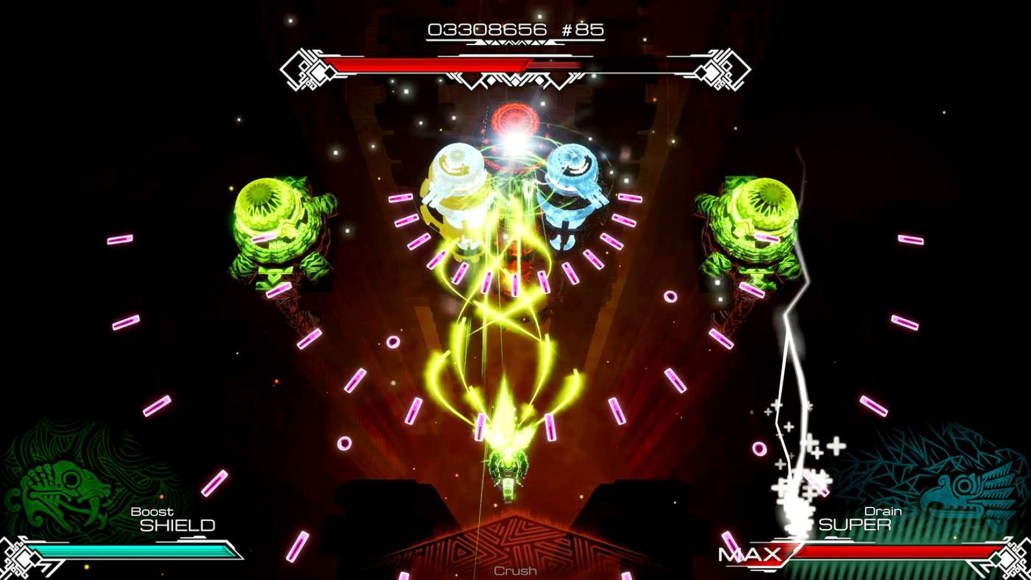 Calling Pawarumi a simple top-down shooter does not do it justice. What it does share with other top-down shooters is that your ship can move forwards and backwards as well as side to side. The level will move top to bottom, and you can only ever face forwards. Moving feels crisp while dodging enemy fire. The controls themselves are easy to learn but, using that age-old cliche, difficult to master. The left stick will control the ship's movement, and the face buttons will control which weapon you want to fire. Like I said, easy to learn, but the difficulty comes in Pawarumi's "Trinity Mechanic" where the three weapon types will do one of three things, depending on what type of enemy you use them on. To try and make it slightly easier, the three weapons in Pawarumi are colour coded; green for (Serpent) bullets, blue for (Condor) lasers and red for (Jaguar) missiles. The three enemy types are also coloured the same way.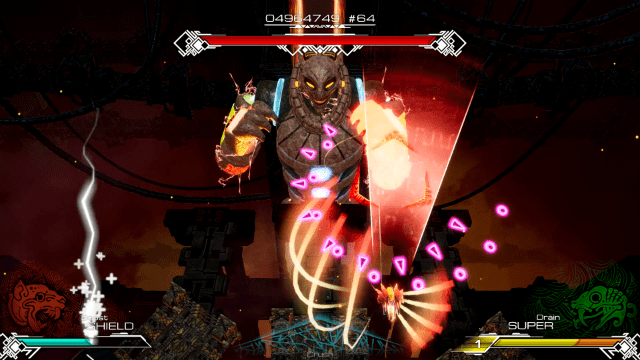 The Trinity Mechanic is optional though; you can just fire whatever weapon you like as each weapon will cause damage to either type of enemy, but you will find yourself at the replay screen again and again if you choose to ignore the Trinity Mechanic. Firing the weapons on the ship are categorised into Drain, Boost and Crush. Drain and Crush require you to fire a different coloured weapon at the enemy in front of you, and boost is the easiest as you just match the colour of the enemy ship in front of you. Boost might be the most important power to use in Pawarumi as it will keep your shields charged because you get hit a lot in Pawarumi. Crush will deal double damage, so this is useful if there is a large enemy wave, and Drain allows you to fill your super meter for a charged up super attack.
If you managed to survive wave, after wave, after wave of enemy ships, then there are bosses to fight. If you are a Dark Souls veteran, then these boss fights will feel extremely familiar. Each boss fight will require you to learn how and when they attack and to adapt to their attack patterns. The boss fights are tough but a lot of fun, which really is the underlying feeling of Pawarumi in general.
Developer: Manufacture 43
Publisher: Manufacture 43
Platform: Xbox One, PC, Nintendo Switch
Release Date: 24th July 2019